Homeowner Quote
Getting a homeowner insurance quote as a consumer was an arduous process that involved a phone to an insurance sales rep. My challenge was to create an end-to-end solution that gives a consumer an accurate quote in 5 minutes or less, facilitate coverage modifications, select lenders to incorporate the premium into mortgage and purchase and bind your policy.
Business Need
A key component of the direct to consumer campaign was providing consumers with the ability to get an accurate quote, compare payment plans, and purchasing/binding policy. Homeowner policies were the bread and butter of Stillwater Insurance and getting the quoting and purchase flow was essential to the success of the direct to consumer efforts.
Solution
Conducted competitive audits to assess competitive landscape
Provide consumer ability to obtain a preliminary quote in less than 5 minutes
Conduct usability studies with prototypes to determine key features in flow, ie. key finding was users really wanted a clear measure of how far they had to go to get to final policy quote
Result
Increased online quotes and policy purchases direct from consumer
Since homeowner quoting was, by far the most complicated, I was able to establish modular design patterns for other quotes (auto, renters, etc.) which sped up the design and development of the direct to consumer quoting and purchase flows
A primary consumer goal is to get a quote easily and quickly.
Starting a quote is easy: select desired product and enter your zip code
1
Select desired product
2
Enter Zip Code and initiate Quoting process
Getting your quote as quickly as possible involves answering a few easy questions
Select the Property Type and How will the property be used…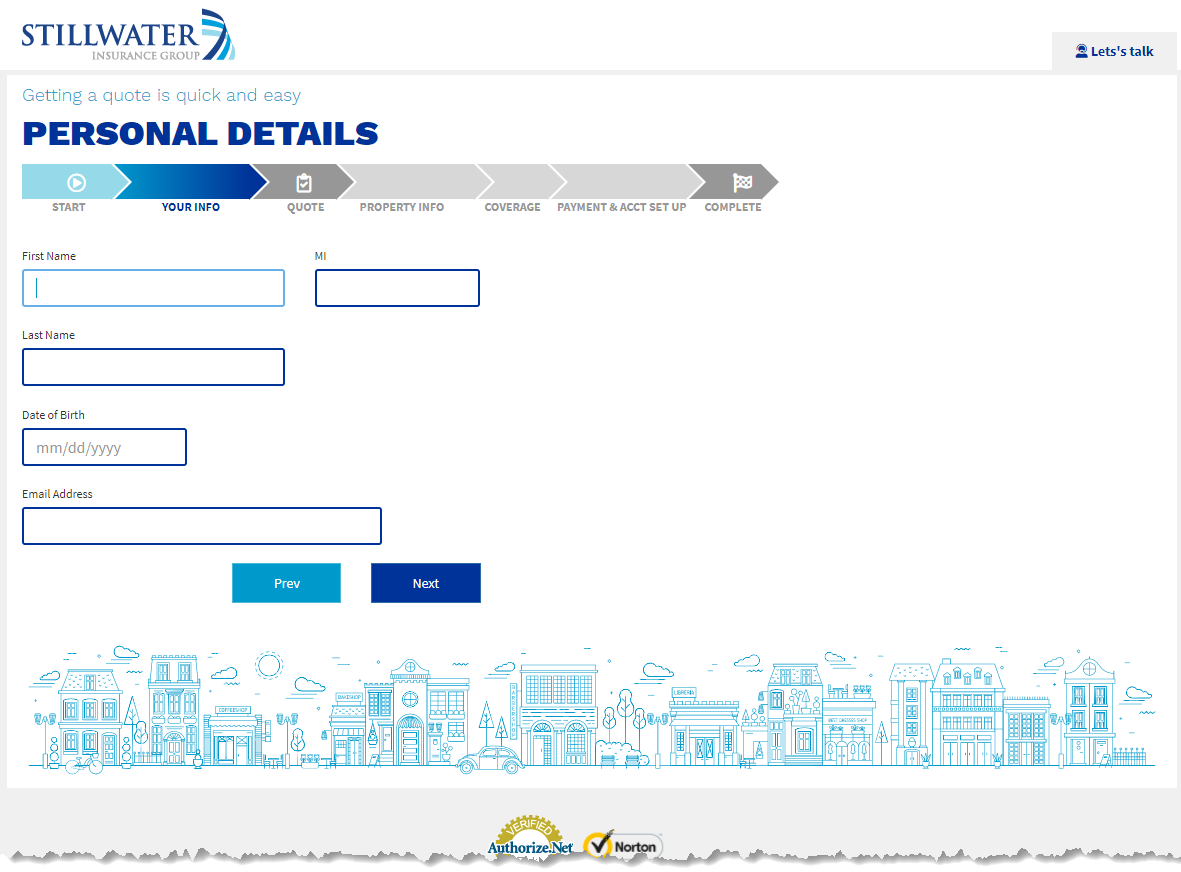 Quick Quote Delivered.
After entering your address and basic personal info, a preliminary quote is presented to user. At this point in the flow, one can either save the quote or continue on with more details related to the property and get a final quote, purchase and bind the policy.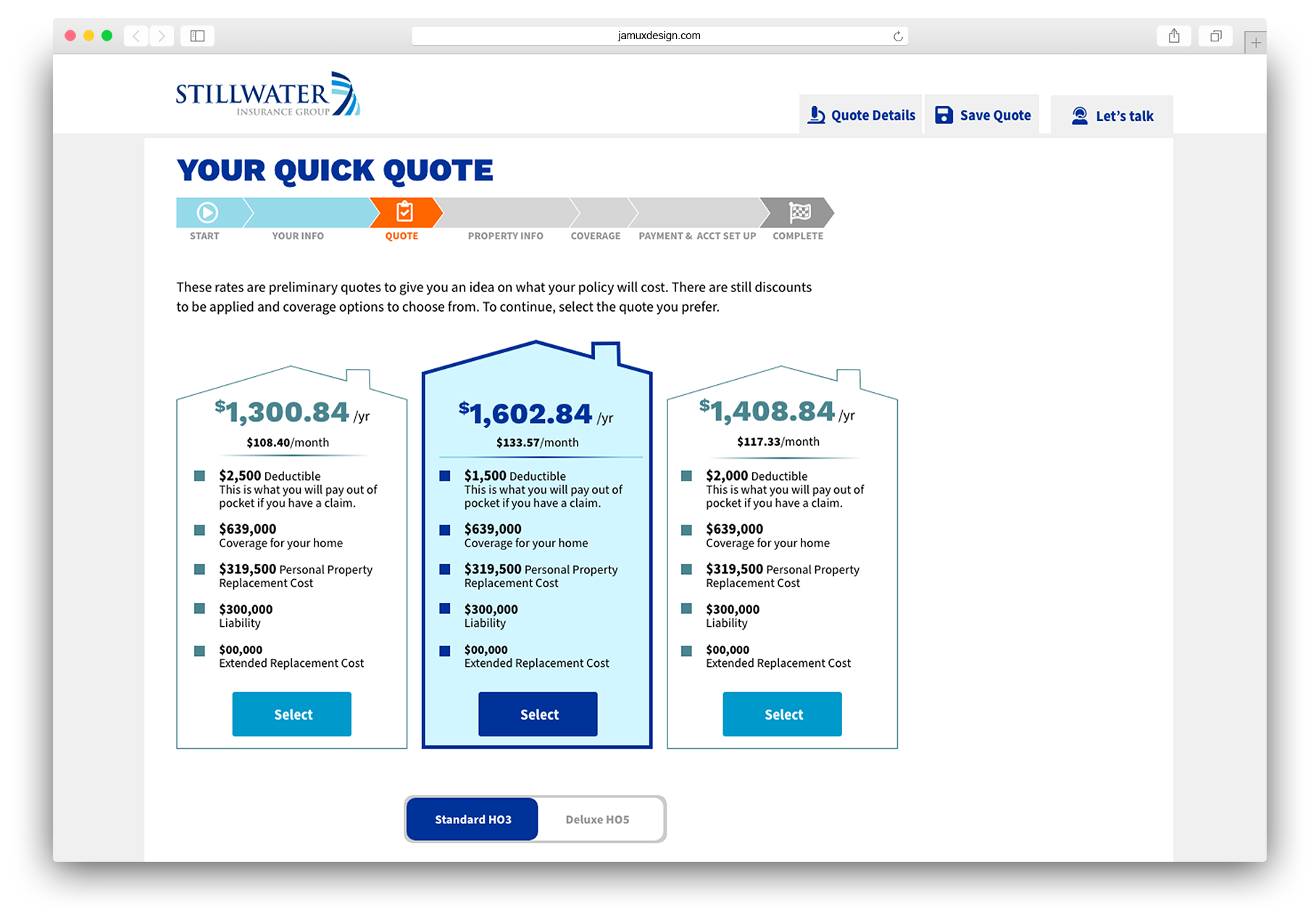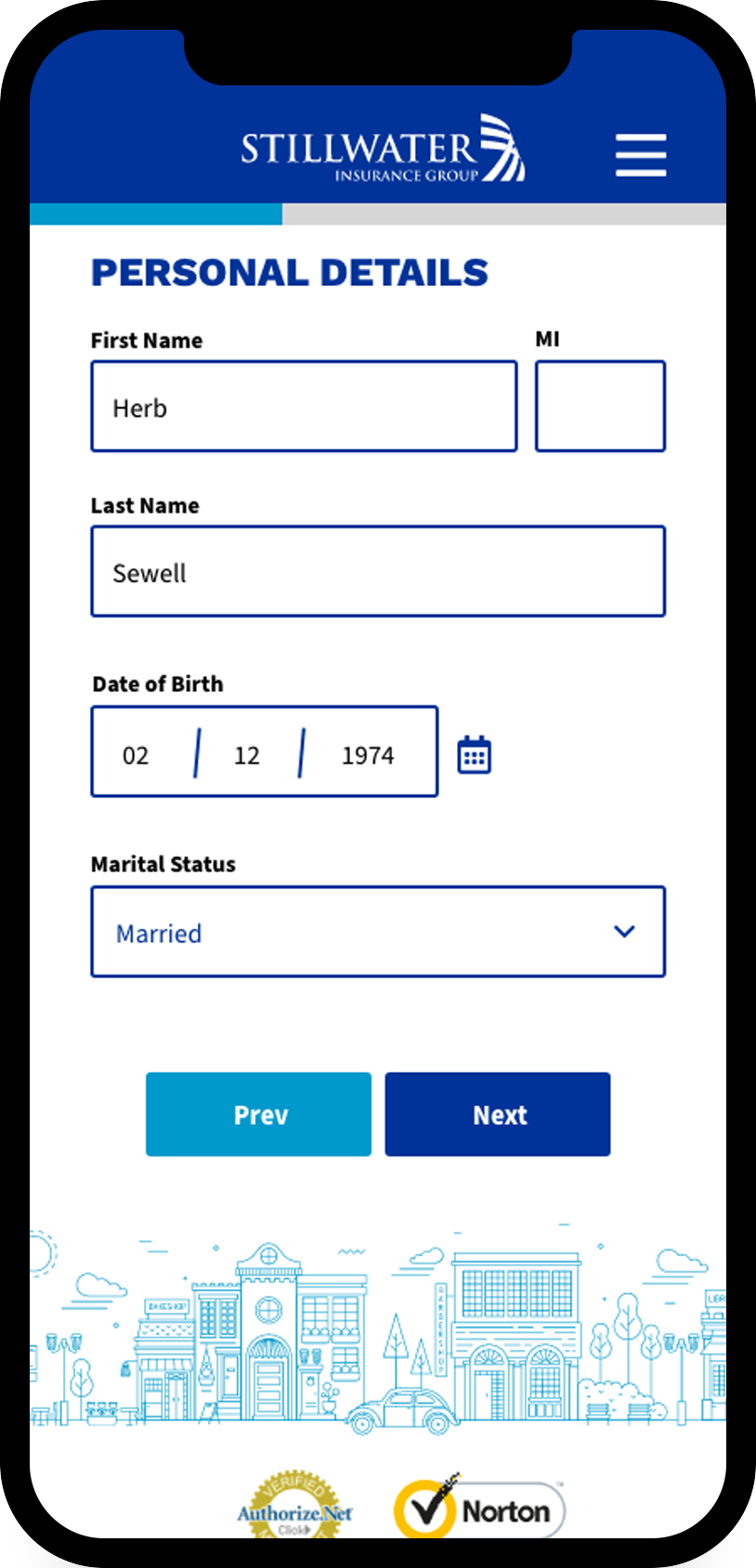 To get an accurate quote, specific questions have to be answered.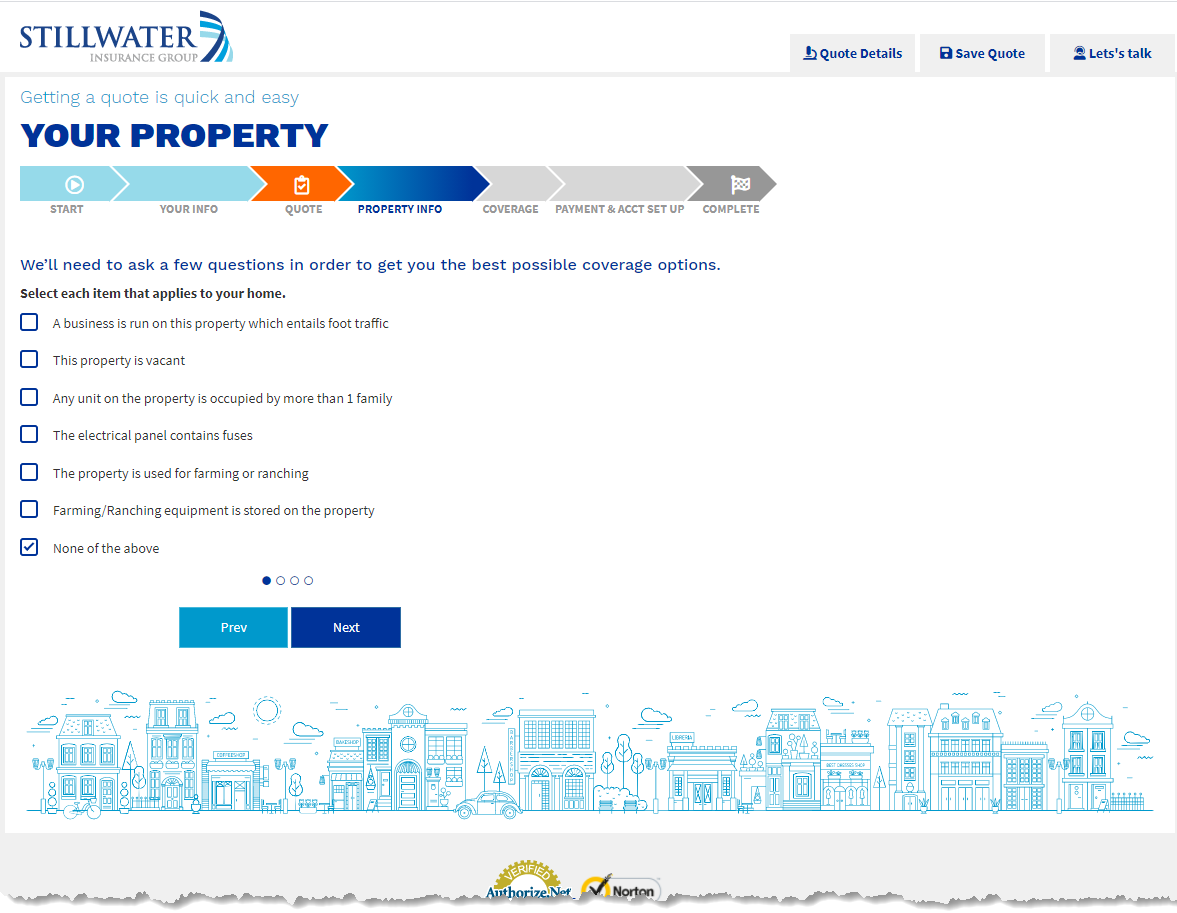 Once a preliminary quote is set, answering some more detailed questions regarding the property to insure it is insurable.
Policy questions can be complicated – at times necessitating follow-up by Stillwater representative.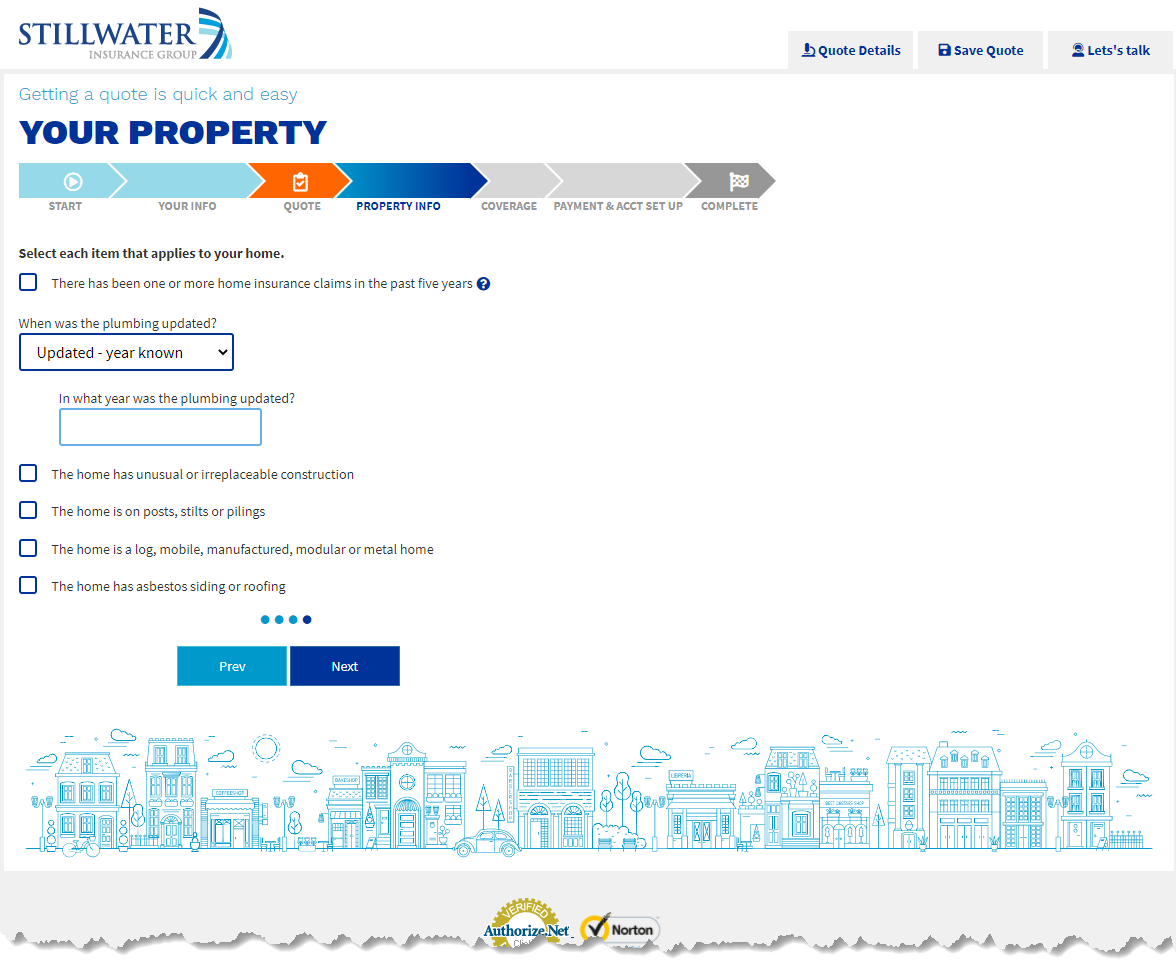 If an applicant answers a question that would be an unacceptable risk for the company, the process is stopped and applicant is directed to call a representative for clarification.
An accurate quote is delivered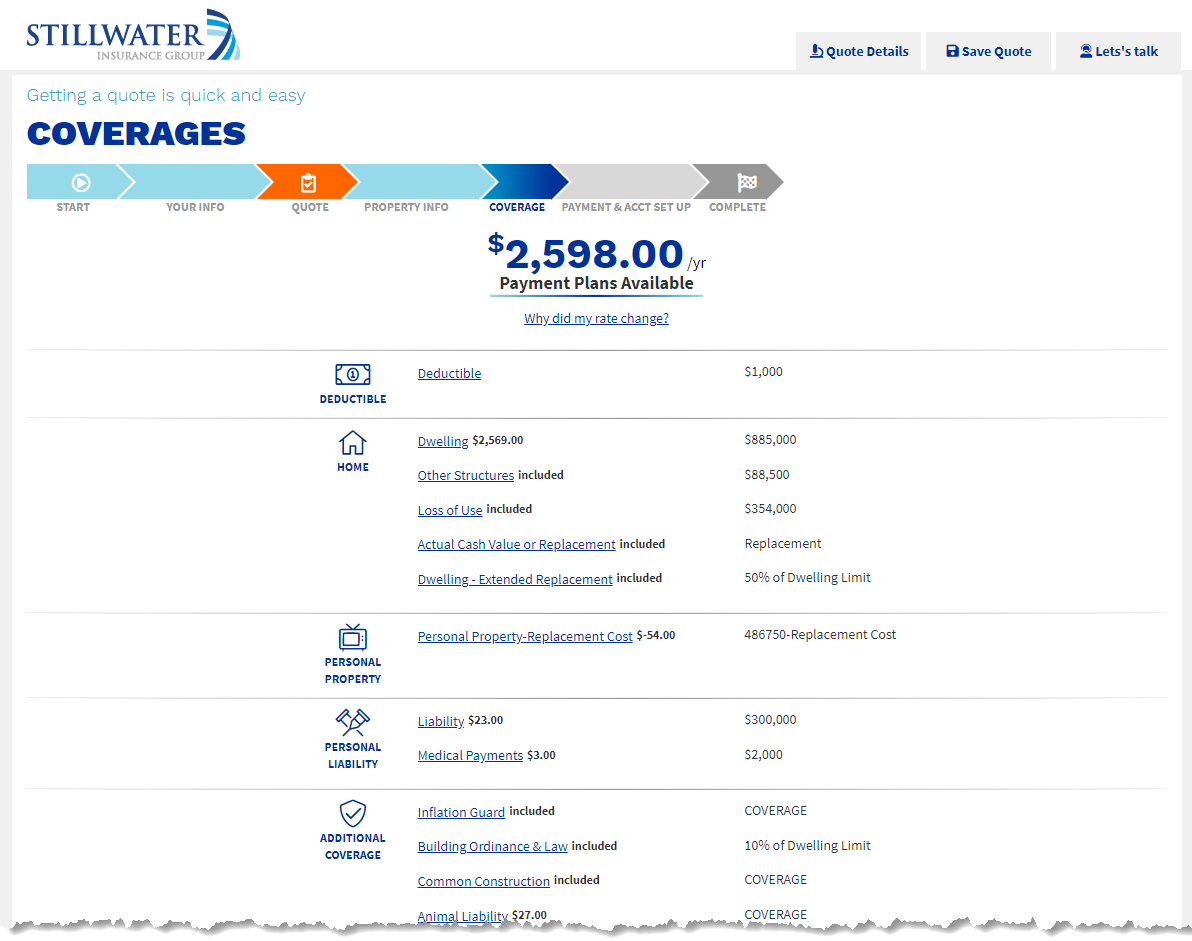 Now the user has arrived at their actual quote which is editable and can be customized to their particular needs.
Customize your quote easily and view your updated premium amount instantly.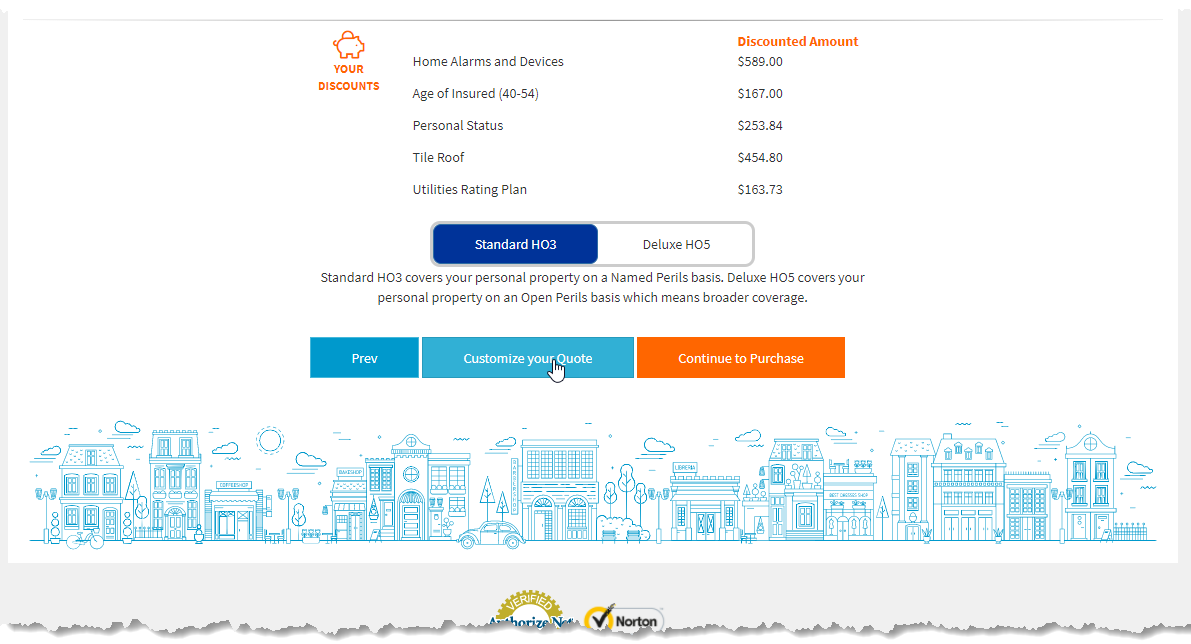 Clicking on "Customize your Quote" will allow user to modify coverage options.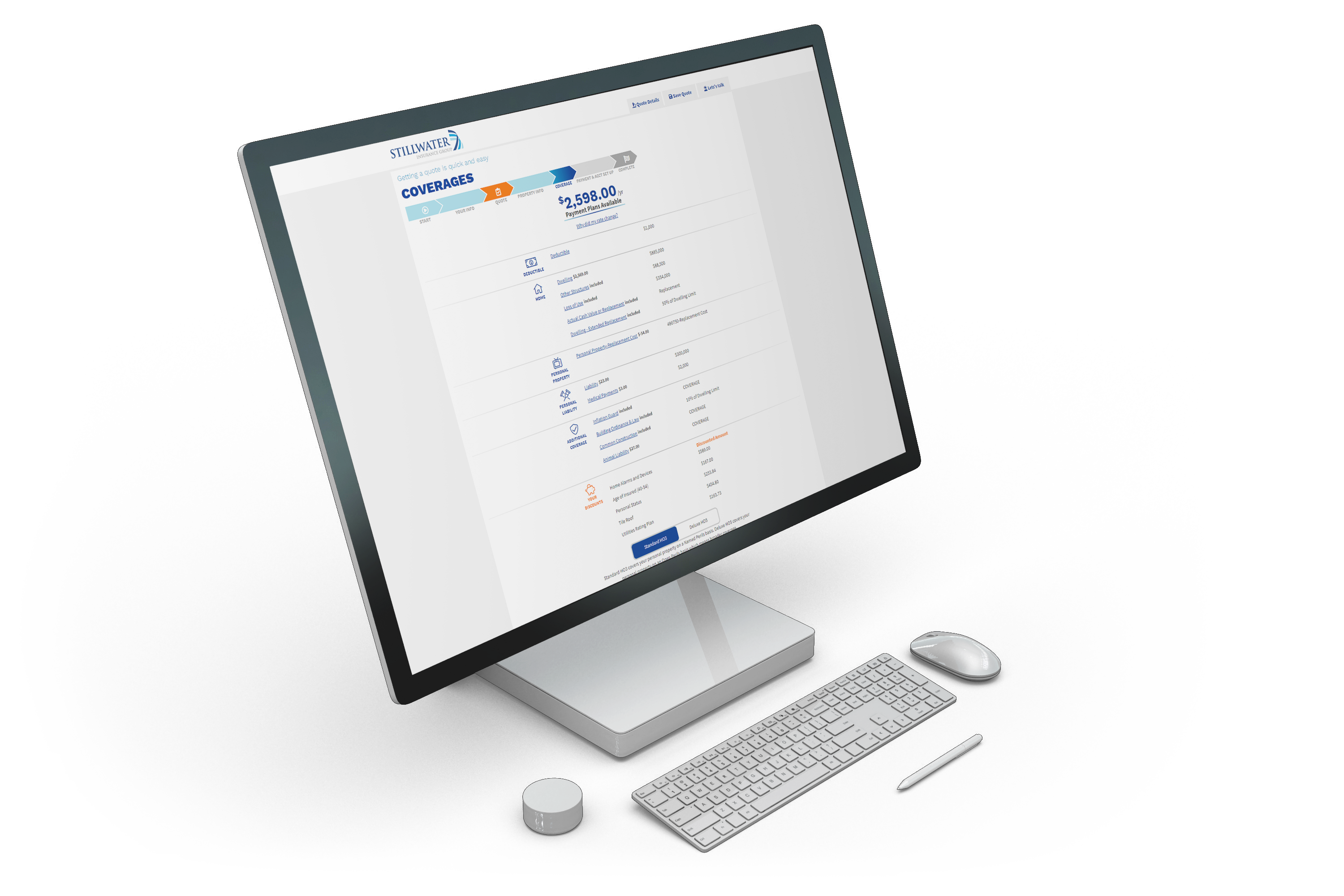 Review & Modify Coverages, Make a Payment and Get Covered.
A user can choose to modify their coverages (or not) and continue to the purchase screens. The payment screen allows for easy comparison between each payment plan and specific costs for each.