Balance Transfer Case Study
The majority of consumer credit card balance transfers were being done via balance transfer "special offer" mailings enclosed with paper checks for the account holder to use to transfer external credit balances to their FNBO credit account. Balance transfers were available online, but the conversion rate was exceedingly low and the business wanted to reduce the number of offer mailings.
Defining the Problem
Competitive Audit
The majority of competitors have a 3 to 4 step balance transfer process –none required input of a offer code to transfer balances
Quantitative Analysis – Adobe Analytics
Very few balance transfer conversions in relation to other comparable banking features
The majority of lost conversions happened on the screen where the user is required to input offer code
Qualitative Analysis – TeaLeaf and Usability testing
Viewing TeaLeaf screen sessions we could confirm that the majority of users would quit the balance transfer process at the offer code input section
Usability testing uncovered a major issue with findability. Users consistently had difficulty initiating balance transfers.
Solution
Remove the offer code requirement
Reduce the steps (screens) to complete online balance transfer (i.e. removed the credit limit increase within the balance transfer flow)
Enhance visibility of balance transfer site-wide for offer eligible account holders
Allow user to select from multiple "to" accounts that have balance transfer offers
Display the offers on balance transfer offer cards with a clear and easy affordances to proceed to the next step
Allow user to easily enter amount to transfer and provide feedback regarding remaining credit balance
Affordances made for making additional transfers
Balance Transfer UX Processes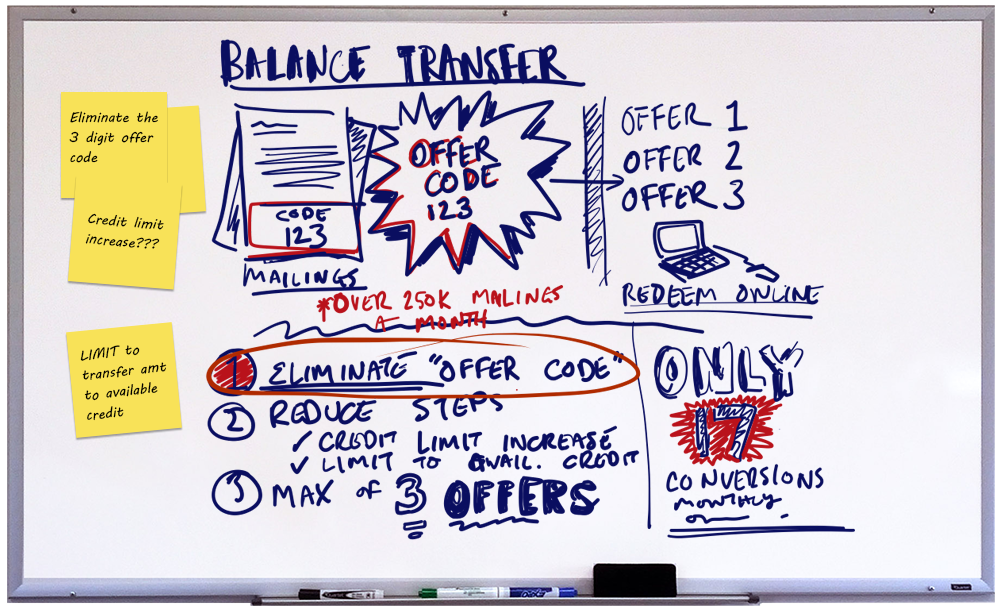 Collaborative Strategy Sessions
The collaborative strategy session included product owner, analysts, and other key business unit stakeholders to provide insight into project viability. Project feasibility from a technical standpoint, was addressed from technologists to inform the requirements gathering process about enterprise systems and level of complexity involved.
As a UX designer, I provided conceptual designs in whiteboard context coupled with low-fi customer journey maps to guard-rail the discussion around customer experience – good or bad – as well as determining which areas might warrant usability testing in the future.
Wireframing
A fast and iterative way to explore options (with established design system) and to engage project stakeholders on the desirability triad. I partnered extensively with product owner and analyst to determine the optimal design to achieve the business goals.
My usability tests uncovered several key findings:
Users struggled to find where and how to initiate the balance transfer process online.
Users had difficulty accessing offer details
Users wanted a way to view an archive of transfers completed and which ones were "in process"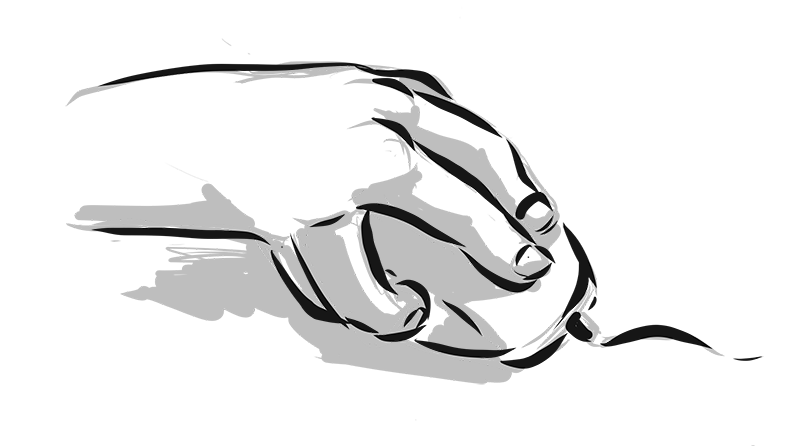 Results
After implementing key enhancements such as removing the 3 digit offer code, increasing visibility and streamlining the transfer process the business noticed the following:
Successful online conversions of balance transfers were significantly increased
Offer mailings were reduced
Online applications for FNBO credit cards increased and the business focused more online marketing to the benefits of FNBO balance transfers